EIN BESCHEIDENER VORSCHLAG
Last week, the unlikely bedfellows Representative Marcus Ricelli and Senator Michael Baumgartner previewed legislation that would give Washington State University a down payment of $2.5 million to open a medical school in Spokane. Future historians will record this as the first shot fired in the Great Medical School War of 2015, the impending tussle between the University of Washington and WSU over access to the big donors who give to medical schools.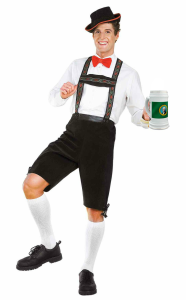 And while we certainly look forward to seeing which squad of lobbyists can spew the most pieties about rural doctors, here at the blog we can't help but marvel at how quickly things have changed. Today WSU wants to build a shiny new med school, but just a few years ago they were cutting programs.
In 2010 and 2011, in response to the legislature's staggering cuts to public higher ed, WSU eliminated the Department of Theatre and Dance, The Department of Community and Rural Sociology, and the German Major. O.K., so Theatre and Dance has always been more of a west side thing, and Community and Rural Sociology apparently didn't have any students, but it may be time to rethink the whole German situation.
In fact, German may be the higher ed silver bullet that legislators have been looking for. Back in October, college returned to being free in Germany. And not just free for Germans, but free for Americans and other foreigners. In the wake of this move, Dorothee Stapelfeldt, a Hamburg senator, called tuition fees "unjust" and went on to say that "they discourage young people who do not have a traditional academic family background from taking up study. It is a core task of politics to ensure that young women and men can study with a high quality standard free of charge in Germany." You can find American legislators who say stuff like this, but none of them are willing to walk their talk and make college free. Here in Washington, where free college would cost maybe half as much as the Boeing tax break, the idea never even comes up.
So maybe it's time to bring German back, not only at WSU, but all over the state. Screw class size and raises for teachers, put all that McCleary money into high school German. Don't just shut down the show tunes and the rural sociologists, shutter the math and engineering programs, too. Turn those universities over to real estate developers and use the money we save to buy every Washington high school graduate a ticket to Berlin or Munich or Dusseldorf. There would probably be enough left over for medical schools all around.
Sending kids out of state to go to college and hiring people who went to college somewhere else are time-honored parts of the bedrock Washington tradition of dramatically underfunding our public universities. Time and again, the business establishment in this state has shown that it is not serious about funding high quality public universities. And now that the country that invented modern universities is offering both free college and better beer to our students, it's high time we just outsourced the whole deal to them.
Our bilingual college graduates could always come home to go to medical school.